Common signs of porn addiction & main treatments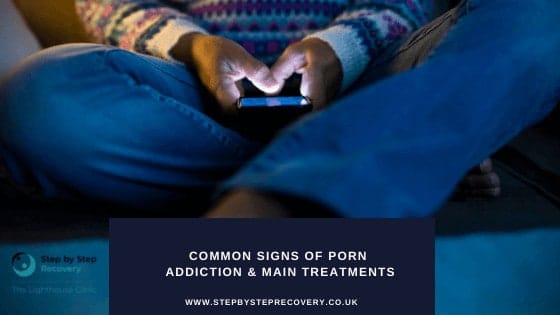 What is porn addiction?
The availability of porn on the internet and other forms of technology has meant that pornography addiction is becoming increasingly prevalent, as it can be accessed and viewed at any time or place. 
Porn addiction is a topic regularly debated among the treatment community, with some professionals even questioning its legitimacy as an addiction. However, the majority do believe in the severity of the problem, and while porn itself isn't considered harmful, it can lead to problematic behaviours, some of which could have legal implications. 
Porn addiction is often grouped with other sexual compulsions and is often referred to as a subcategory of sex addiction. 
Porn addiction signs are largely behavioural, and so it can be difficult to identify any obvious physical symptoms in other people. If you're concerned about your porn use and find that it's beginning to interfere with day-to-day life, it is likely you have developed an addiction and should consider seeking some form of therapeutic intervention. 
What are the most common porn addiction signs?
Inability to stop 
Addictions of all kinds are characterised by the inability to stop engaging in compulsive behaviours, despite the consequences that could arise as a result. If you find that you, or your partner, are unable to stop watching porn, it may be time to think about treatment. Addiction is a progressive disease, and if you're unable to stop now, the problem will only deteriorate. Therefore, early intervention is strongly recommended. 
2. Never feeling satisfied 
Someone suffering from addiction, whether its drugs, alcohol, gambling, or sex, will never feel satisfied. Repetitive behaviours and habits eventually lead to the rewiring of the brain's neuropathways. These changes cause the brain to crave porn in reaction to certain triggers. If you suspect your partner has an addiction to porn, you may notice them sneaking away to another room or becoming defensive when you question them about their pornography use. 
3. Loss of productivity 
Porn addiction can seriously impact productivity and impede your ability to fulfil other responsibilities. If you're suffering from an addiction to porn, you may notice how easy it is to lose track of time and may often feel guilty about your inability to accomplish much during the day. This can become a vicious cycle, leading to feelings of lethargy and complete disinterest in regular activities.  
4. Lack of interest in sex 
One of the biggest issues associated with watching porn is the unrealistic expectations it presents when it comes to sex and even the appearance of men and women. This can lead to frustration and anger if your partner is not fulfilling these ideas, causing them to feel alienated and anxious about engaging in any sexual activity in future. 
5. Physical discomfort 
There are aspects to a porn addiction that can negatively impact your physical health as well as your mental wellbeing. This can occur as a result of the movements involved with pleasuring yourself, or even the strain of excessive screen time. People an addiction to porn are prone to suffering due to strain on the wrists, back, and neck as well as frequent headaches. 
6. Experiencing feelings of guilt and shame
Feelings of guilt and shame are extremely common occurrences for someone in the throes of porn addiction. You may feel as though you are neglecting your partner as well as your priorities and feel ashamed of yourself for regularly seeking out gratification of this kind. 
7. Constantly distracted 
The inability to focus is another very common porn addiction sign. You may find yourself completely preoccupied with thoughts of watching porn and feel disconnected from your environment, which can negative impact work, school and relationships.
8. Mood swings 
For someone with an addiction to porn, going without it for some time can cause feelings of frustration, irritability and impatience. If your partner is addicted to porn, you may find they take their frustrations out on you, especially if they believe you're preventing them from watching porn by taking up their time with other activities. 
9. Financial difficulty 
Financial issues are rarely associated with porn addiction, however, many who suffer from this issue have admitted to spending large amounts of money on what they consider to be higher-quality content. Like any addiction, it doesn't take long before people find themselves experiencing financial difficulty. 
10 Illegal behaviour 
Someone suffering from a substance use disorder can develop a tolerance to their drug of choice. After prolonged use, they are unable to achieve the same high as they did when they first started using. This concept can also apply to porn addiction. As your porn addiction progresses, so will the desire to seek out more extreme or illegal forms of content. At this stage of addiction, many people start to behave recklessly with no regard for consequences, some of which could have very serious legal implications.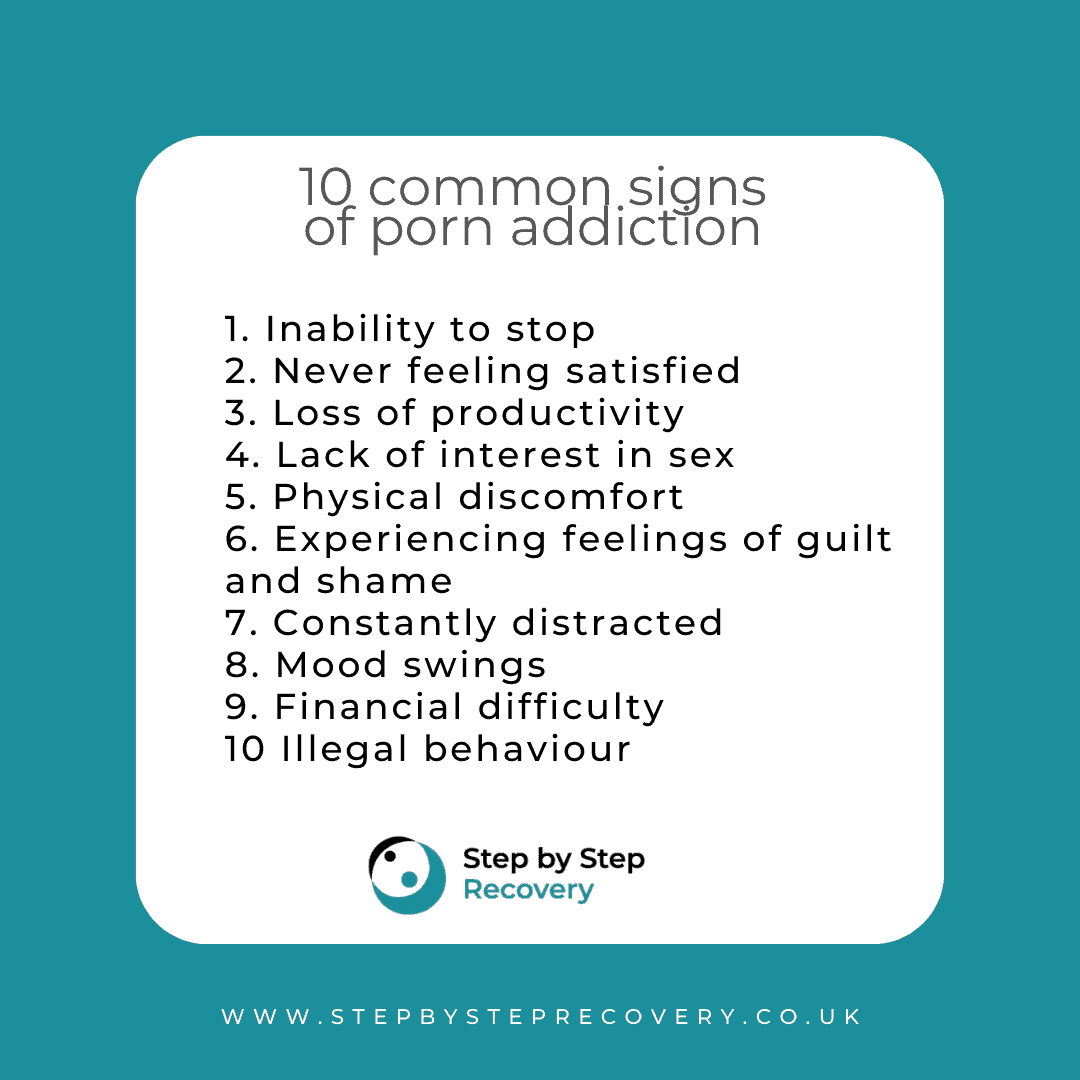 Treatment for porn addiction
Many people put off seeking treatment for porn addiction, often because they feel embarrassed and ashamed. Like many behavioural addictions, porn addiction affects brain chemistry, doesn't require a detox unless it's part of a dual diagnosis involving other substances. Instead, the psychological irregularities caused by addiction to porn can be treated using a range of therapies designed to reverse problematic behaviours. Some of the most widely used therapies in porn addiction treatment include: 
Cognitive Behavioural Therapy

Dialectical Behaviour Therapy

Individual counselling 

Support groups
While behavioural addictions are incorrectly assumed to be less harmful than addiction to substances, the consequences associated with them can be extremely detrimental if not addressed early. Finding the correct form of therapy for this issue can help you overcome this problem and live your life free from addiction.
A page revised the 6 of July of 2021, by Danielle Byatt, a Level 4 addictions counselling, Level 5 in Leadership & Management, BA applied social work. and Treatment Director at Step by Step Recovery.