Gently Does It with Gentle Exercise.

Has the benefit of gentle exercise been overlooked?  We live in a society where we are encouraged to 'work hard and play hard' and where most aspects of our existence are 'consumed' rather than lived. Competition, an inherent element of our society, doesn't stop at work; its effects are often brought into other spheres of our life, including physical activity.
Sport is often competitive but the purpose of fitness, unless we train to compete, should be seen differently. We have all seen the bloke in the gym squatting a tonne while growling or the lady taking the spinning class so seriously you would think she is on the finishing straight of the Tour de France. That behaviour may be unnecessary given that a recent small study has demonstrated that strenuous exercise regimes offer no additional health benefits over more moderate exercise.  There was also no benefit in reduced body fat for people trying to lose weight.
Take a more holistic approach
Also, according to the holistic approach to health, over-energetic physical training is considered unsuitable as it places too much emphasis on the body and neglects the psyche. A Holistic approach advocates exercising body and mind together. Gentle exercise has been shown to be enough to keep the brain healthy.  Unless we are doing preparatory training for a competition, fitness should not be seen as an end in itself but as one part of a healthy lifestyle. Other equally important elements include diet, lifestyle, relaxation, recreation, etc.
Types of Gentle exercise
Gentle exercise generally does not require special equipment or membership of a gym.  Here are some examples:
Walking
Walking has significant advantages that include improving our mood, helpi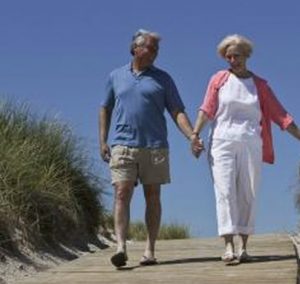 ng digestion and burning calories. Being outside allows the body to absorb vitamin D that promotes bone growth and other important body functions. Even in urban areas, we can all find a park nearby where we can walk. We could choose to go to places on foot instead of using the car or public transport. Walking a mile or two doesn't need planning or preparation and most of us can fit it into our daily schedule quite easily.
Stretching
If you are not familiar with yoga, stretching is the next best thing and most exercises can be done from the comfort of your living room. The internet is packed with tutorial and demonstration videos on how to stretch properly. Among its benefits, stretching could help prevent back problems, keep your limbs supple, and help relaxation. Even the most reluctant can usually manage a simple daily programme. This could involve walking a mile followed by 5-minute stretch; it will have an undeniable, almost immediate, impact.
Yoga and Pilates
These two forms of exercise 'tick all the boxes' of holistic exercise.  They incorporating breathing techniques that aim to relax you while working on your body tone and de-stressing you as a result. Again, the internet has a plethora of videos in both disciplines so you can browse and select your level. There might be a 'trial and error' approach to start with but once you recognise the exercises you will be able to design your own routine thereby taking full ownership of your practice.
Gentler exercise is advisable because it brings about both physical and psychological benefits. When selecting a new training regime, the positive impact on the body should be the same as on the mind.
Source:
https://humankinetics.me/2017/01/18/gentle-exercise-may-have-same-benefits-as-rigorous-workouts
A page revised the 6 of July of 2021, by Danielle Byatt, a Level 4 addictions counselling, Level 5 in Leadership & Management, BA applied social work. and Treatment Director at Step by Step Recovery.