Why does 'Cocaine Cool' exist?
Cocaine is a prime example of what is considered to be a "cool" drug – by those that take it. The fact is that cocaine destroys lives, also heavily impacting on users families and loved ones.
Cocaine is now purer, stronger and more readily available than ever before. This Class A stimulant is a particularly moorish, very addictive and extremely dangerous drug. So why isn't more being done to deter people from using it?
Statistics for cocaine related deaths in England and Wales
432 People Died From Cocaine In England And Wales Last Year.  These stats have reached an all time high. Admissions to hospitals for mental health related cocaine illnesses are also peaking. The NHS is buckling under the added strain due to cuts to drug and alcohol teams all over the country.
Since 2007, when the first comparable statistics for drug poisoning deaths were recorded, cocaine deaths have risen by nearly 4000% – Yet the government are still failing to take appropriate action.
Cocaine is still seen as a good-time, fashionable drug. The false perception held by many is that those taking cocaine are successful. They like to live in the fast lane, work hard and play hard. Until this perception changes and a more realistic image is put across, deaths are likely to carry on increasing. This is especially true if governments do not put the much-needed funding back into substance misuse prevention and treatment services.
Cocaine Deaths Peak
2017 saw a staggering 432 deaths resulting from cocaine use in England and Wales. This compares with 371 deaths in 2016.
The standardised rate in 2017 was 7.5 deaths per 1 million population. Deaths mentioning cocaine show a rising trend since 2011. They have increased from 1.9 deaths per 1 million population.
Despite the huge surge in deaths over the last 6 consecutive years we still allowing cocaine use to be glamorised?
How Cocaine Cool is Glamorised
Media, governments and films all have a huge influence on how we see things in the world today. They choose the angle they exhibit on any given subject and have the power to influence perception.
Cutting funds to drug and alcohol services sends the message that people in need of this help are less important than others. The demand for more effective drug and alcohol treatment is simply is not being met and is horrendously falling short in so many ways.
Cocaine representation in the film indistry
The film industry and the social media can at times contribute to the false perception that cocaine is cool. They also influence how many people see addiction. Social media is accessed by a lot of individuals and used by all ages. Sometimes it allows for a lighthearted view on a very serious matter.
With little or no effective restrictions on public members posts, Facebook and other social media apps are often crammed with drug and alcohol memes and jokes. These suggest it is funny or cool to get "wasted".
Popular films and TV series have a habit of portraying those who take and deal in cocaine as powerful, successful people. Think The Wolf Of Wall Street, Peaky Blinders, Scarface, Narcos. There are numerous other mafia, gang and power-based films held in high regard by the general public.
Leonardo Dicaprio played successful businessman and cocaine addict in The Wolf of Wall Street for which he won a Golden Globe award.  Does that help make Cocaine cool?
Yes, alcohol and drugs have always been around but since when did they become "cool"? Whether it's alcohol, cocaine or cannabis, certain drugs are seen as acceptable and expected to represent a sign of a good party or night out.
With Class A drug deaths rising, isn't it time higher impacting prevention measures are taken by the government with regards to these dangerous drugs?
The Dark Side of Cocaine
Cocaine is often depicted as an indulgent luxury drug; a drug that those who have had some success in their lives use to enhance their recreational enjoyment and to celebrate their power.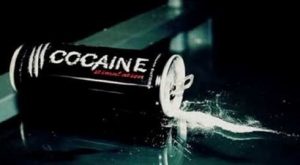 To some extent this is true, as it has been found that cocaine use is most popular with those that are of a higher earning capacity.
The side that is often left out of the picture of cocaine use is the abuse, addiction and unexpected death from recreational use. You do not have to be an addict or take copious amounts of cocaine to put your life at risk.
Cocaine should never be considered cool. It is a very powerful stimulant that has the power to cause instantaneous death. This is usually through cardiac arrest or heart attack and it's very unlikely you will be resusitated.
For those that become addicted to it, cocaine can literally take everything. Addiction to this drug is so powerful that it is incredibly hard to stop. Cocaine addicts often lose their partners, businesses, homes and families. As a result they can also lose their health and sanity as a direct result of taking this demon drug.
The Answer To Cocaine Addiction
Whilst Cocaine addiction cannot be cured, (an addict can never return back to recreational use) it can be effectively treated. An abstinence-based recovery can be maintained.
For some this can be achieved through self-help groups such as Cocaine Anonymous or SMART recovery. For others, a more structured approach is needed to separate them from the drug. This usually means private drug rehab.
Step by Step Recovery offer affordable Cocaine detox and Cocaine rehab for those that need that extra help in stopping. Our fully residential treatment centre means that our clients are freed from temptation and are kept in a safe and protective environment for the duration of their treatment.
Step by Step Recovery feel that raising awareness around the dangers of Cocaine is a very important step in prevention, however this does not generally help those that have already developed an addiction.
So, if you or a loved one are struggling with an addiction to Cocaine and need help, please do contact us. We can offer all kinds of advice inlcuding where to go to access NHS help as well as private cocaine rehabilitation treatment.
Sources and Resources
https://www.theguardian.com/society/2018/aug/19/rise-in-cocaine-deaths-prompts-calls-for-government-action
https://www.ons.gov.uk/peoplepopulationandcommunity/birthsdeathsandmarriages/deaths/bulletins/deathsrelatedtodrugpoisoninginenglandandwales/2017registrations