Why This Could Be Your Last Christmas If You're Alcoholic
Christmas – That time of year when overindulgence can be justified. Not just justified but encouraged. Families all over the country stockpile on food and alcohol in preparation for the coming Christmas festivities. However, this could be your last Christmas if you're an alcoholic.  So Step by Step Recovery want to draw your attention to why this can be the most dangerous time of year for someone who is addicted to alcohol.
With parties and celebrations galore, this is the time of year everyone is encouraged to let their "hair down" and have a good time. For many that means copious amounts of booze.
Christmas Isn't Christmas without Alcohol
There are very few that can imagine a Christmas without alcohol being a part of it. From mulled wine to cans of lager, bucks fizz at breakfast, warming brandy, champagne with christmas dinner and Baileys as an indulgent nightcap, alcohol really has become a large part of of the traditional British Christmas.
For those that aren't alcoholic, Christmas really can be a heart-warming, fun and wonderful time of the year, but what about those that are?
If you are alcoholic or have a problem controlling your alcohol intake, being given free reign around how much you drink can be a very dangerous thing.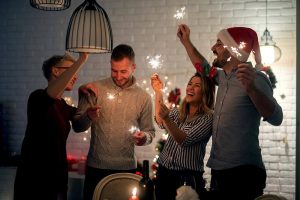 As a professional private rehab facility specialising in the treatment of drug and alcohol addiction, we receive many calls from family members who wish for their loved ones to come in for help and treatment over the Christmas holidays.
For families of alcoholics Christmas is a time of year that they fear and dread. Yet very few with an alcohol addiction will agree to rehab treatment until after the festivities. They see Christmas as a chance for one last blow out before "sorting themselves out"
The reality is that if you are alcoholic it could be your last Christmas….
When Overindulgence Becomes Fatal
For an alcoholic who is used to hiding the amount they drink from others on a daily basis, the opportunity to drink openly around the clock or binge drink drink at festive parties appears to be a gift in itself. Usually an alcoholic will take full advantage of the relaxed atmosphere around Christmas. This generally means increased levels of alcohol consumption and risk taking.  However, this could be your last Christmas if you're an alcoholic.
Drinking heavily for days, needless to say, can really take its toll on your body and mind. Most families will know a family member who "drinks too much" and spoils it for the rest.
Instead of looking forward to Christmas, families of alcoholics become anxious as to how their loved one will behave. Will they start an argument? become violent? spend the whole of Christmas drunk, or drink and drive?
Each year, on average 3,681 people are seriously injured in drink driving related accidents in Great Britain. Approximately 85,000 people are convicted of drink driving offences in England and Wales alone, of which 85% are males.
If you are already a heavy drinker or an alcoholic, increasing your alcohol intake over the festive period can be a very dangerous thing. Those who are heavy drinkers or binge drinkers can poison their body with too much alcohol or cross the fine line between sporadic heavy drinking and alcohol dependence.
Ultimately, your alcohol intake or your actions whilst intoxicated could lead to death. The body can only take so much before it begins to shut down. So is it really a good idea to postpone alcohol treatment until after Christmas if you know you have a problem?
Who Needs Rehab Over Christmas?
The idea of being away from your family and loved ones over Christmas naturally will not appeal to most. But what if admitting to an alcohol rehab saves your life and gives your family back a sober new you in the new year? What if your family can sleep peacefully knowing where you are and that you are safe? What if your family have a better Christmas not having to constantly worry about you or take care of you after you have drunk too much?
If your loved ones have suggested that alcohol rehab is needed and are anxious about your drinking leading up to the Christmas festivities, getting professional treatment for your alcoholism really would be a very good idea. Not only will you be able to meet the new year sober with a fresh new start, but you will also be in a safe and compassionate environment with others that understand you over the Christmas holidays.
What is Alcohol Rehab like over Christmas?
Step by Step Recovery appreciate that going into rehab over the Christmas period can be particularly challenging. You may feel like you are missing out or that your family's Christmas will be ruined without your presence. Families are usually very relieved to know that their loved one is getting help. They are able to enjoy Christmas knowing you are in an alcohol free environment.
Over Christmas we make every effort to ensure our patients make the most of their stay with us. Family and friends will still able to visit and we still celebrate the spirit of Christmas but without the alcohol.
We will show you how Christmas can be enjoyed sober. Our therapists and counsellors understand it can be a difficult time of year for our patients. So they will help keep you firmly focused on staying positive and getting well.
If you know you have a problem with alcohol that you cannot control, consider giving you and your family the best possible present this Christmas – the gift of life and of sobriety.
If you cannot imagine a life without alcohol, perhaps it's time to seek professional help. Please do not hesitate to call us. Find out more about our bespoke private alcohol detox and rehab programmes. Or complete and return our online assessment form.
Sources and references